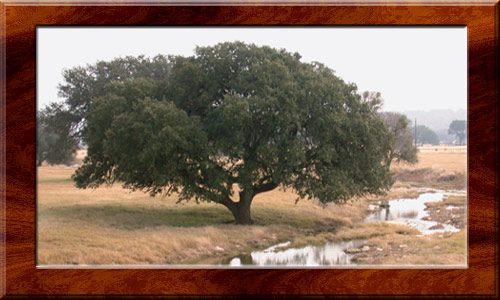 Magnificent Live Oak near Driftwood, TX
We are Here to Help
We believe that the majestic Oak trees in Texas are one of our most important assets. Our company protects your trees from Oak Wilt by expertly employing the methods prescribed by Texas A&M University's Oak Wilt Management Program and the Texas Forest Service. These protocols are Macro Flare Root Injection of Alamo® fungicide and root trenching.
We participate in the latest research and development, and support efforts to find a cure for Oak Wilt. We direct 100 percent of our efforts and resources toward stopping Oak Wilt and to the protection of our magnificent Oak forest.
Educating our Clients
Working with and educating our clients in all settings; from urban landscapes to hill country ranches, our company is a complete Oak Wilt services company. The services we provide include: property inspections, consultation, Alamo® fungicide injections, suppression trenching, tree health evaluations and education. Our people are committed to providing the best service possible. That is why we are dedicated to continuing education for our entire staff. Our team leaders are certified arborists (International Society of Arboriculture). We have the experience and education necessary to do the job right.
A History of Service
Our company was founded in 1999 and has grown from a garage based endeavor to a full service enterprise. We have always emphasized superior customer service in every aspect of our business. The result of our dedication is that we have become the premier Oak Wilt services company. By a large margin, we treat more trees and install more suppression trenches than any other company.
| | | | | | | |
| --- | --- | --- | --- | --- | --- | --- |
| | | | | | | visitors |